Remember to always leave your recycling items loose. Please do not use a plastic bag to collect your recyclables, rather just place them loosely in your cart. Plastic bags can get caught in the machinery which can cause damage to the machinery or a delay in production. Additionally, when there are two or more items connected to each other, they cannot be recycled, even if they're all recyclable.
Recycle right - recycle smart. Recycling Tips:
Leave your recyclables loose, rather than in plastic bags.
When in doubt, toss it out!
Empty and rinse all recyclables.
The following items are acceptable curb-side recyclable materials: Please do not bag your recyclables in Plastic bags.
Aluminum & Steel
empty and rinse
Food & Beverage
empty and replace cap
Bottles & Jars
empty and rinse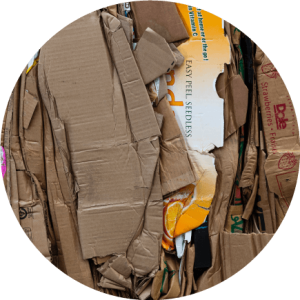 Mail, newspaper, box board & cardboard
flatten
Kitchen, laundry, bath – bottles & containers
empty and rinse
The following items are non-acceptable curb-side recyclable materials:
Plastic Bags
Food
Scrap metal & wood
Tanglers – wires, rope, hoses, cords.
Pizza boxes and egg cartons
Styrofoam
Electronics
Appliances
Auto glass or ceramics
Household hazardous waste
Shredded Paper
Frequently Asked Questions
We compiled a list of frequently asked questions to alleviate any unknowns that you may have about recycling. We want the recycling experience to be hassle-free and easy. Please review the list of frequently asked questions below, and feel free to reach out to us if you have additional questions. We are here to serve you!
Use out trash wizard to schedule reminders, pay your bill, find our FAQ's or find out how to recycle certain items.